Facilities
High-quality facilities are critical to success of any experimental research group; one of our hypersonic wind tunnels has been operational for several years, while the other is awaiting the end of the COVID pandemic for final installation.
HyperTERP
The Hypersonic Tunnel for Educational and Research Purposes (HyperTERP) originally started life as a shock tube built by an intrepid group of undergraduate honors students as a class project. It has since been converted into a reflected shock tunnel equipped with a Mach 6 free-jet nozzle. Run in tailored-interface mode, it is capable of reservoir temperatures and pressures up to approximately 1500 K and 25 atmospheres. It is currently used for testing free-flight articles under hypersonic conditions, and for diagnostic development. In the future this tunnel will also be adapted into a direct-connect configuration for scramjet combustion tests by interchanging the nozzle and test section. The tunnel is supplied by a driver section 3m in length (extendable to 6m for increased test times) and a driven secton 6m in length. The Mach 6 test section measures 48cm x 30cm x 30cm and allows for ready optical access and pressure/temperature measurements of test articles. HyperTERP was completed in Summer 2017.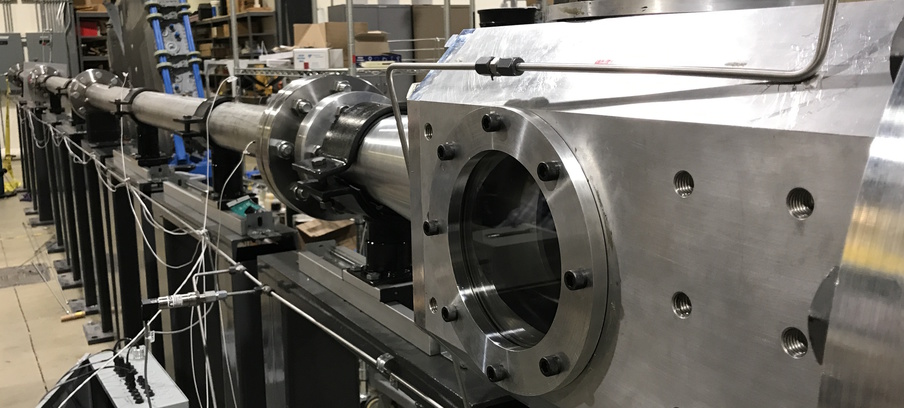 High-temperature Ludwieg tube
HAPL has received funding through DURIP (Defense University Research Instrumentation Program) grants from the Office of Naval Research (ONR) and Air Force Office of Scientific Research (AFOSR), as well as a generous gift from the Lockheed Martin Corporation, to develop a unique facility for the simulation of hypersonic flows. The high-temperature Ludwieg tube (HTLT) has been partially completed, with final components to be shipped from Germany and installed once COVID-related travel restrictions have been ended. Once complete, the HTLT will be capable of producing effective reservoir pressures and temperatures up to 60 bar and 900 K, which will allow a wide range of Reynolds numbers and wall-temperature ratios at hypersonic conditions. Two nozzles, with exit Mach numbers of 6.2 and 8, will be available. The steady test time will be approximately 100 milliseconds.
AEDC Hypervelocity Wind Tunnel 9
The Air Force's Tunnel 9 in White Oak is one of the major hypersonic testing and evaluation facilities in the nation. Generating flows up to Mach 14, Tunnel 9 is capable of extremely high Reynolds numbers and has a 5 foot diameter test section, spacious enough for large test articles. Through a formal collaboration between Tunnel 9 and UMD, students may have the opportunity to be involved with diagnostic development and major experimental campaigns in Tunnel 9. Previous and ongoing studies include Mach 10 and 14 boundary-layer transition experiments on a pitching cone, and investigations of Mach 10 turbulent boundary layers and shock-wave/boundary-layer interactions. More information on Tunnel 9 can be found here.
NASA Langley 20-Inch Mach 6 Tunnel
Through a recent collaboration between NASA and the Air Force, HAPL students have had the opportunity to run experiments in the NASA Langley 20-Inch Mach 6 hypersonic wind tunnel in Hampton, VA. A world-premier facility for hypersonic aerothermal testing, the 20-Inch Mach 6 tunnel can achieve flow durations of over 15 minutes and stagnation temperatures exceeding 500 K. Recently, HAPL traveled to Hampton to perform shock-wave boundary-layer interaction and fluid-thermal-structural interaction experiments under a three-year AFOSR grant. More information on NASA Langley hypersonic wind tunnels can be found here.